Aerial inspection services
Empowering actionable insights for portfolio optimization.
Four steps to fully capture your portfolio value.
INSPECT
Aircraft Aerial Inspections
Our preferred option, using our proprietary PV inspection technology to provide the highest quality and consistency of data capture, with inspection times up to 50x faster than drones.
Drone Aerial Inspections
Our drone inspections provide the flexibility to use the tools you have, or use our pre-qualified vendors. Heliolytics provides flight parameters, flight training and advanced analytics, ensuring consistent inspections across a portfolio. TRIAGE
Diagnostic Analysis
Reduce DC operations costs by over 60% while achieving the highest level of data capability and insight on a portfolio.
Heliolytics has pioneered the condition based workflow for aerial inspections. Starting with a consistent, high quality data collection, our diagnostic reports flag the impact of DC faults on system production before detailed analysis. This enables an informed decision on the level of analysis needed after data capture.
Never make a compromise between cost and acquisition quality, and maintain a consistent data record throughout the lifetime of the project. ANALYZE
Advanced Analytics
We combine the world's largest module fault database with our in-house expertise to provide unparalleled accuracy and depth of insight. Everything we do is with an eye to producing actionable insights from complex data.
Our classification system uses validated field information to assign an energy loss and electrical location to each identified fault, enabling accurate, bottom up financial impact models.
Leveraging our integrated consulting teams, we participate in and track the latest industry research related to module reliability. We are continuously improving and adapting our analytics to new technology and reliability discoveries, ensuring that our analysis evolves as rapidly as the solar industry.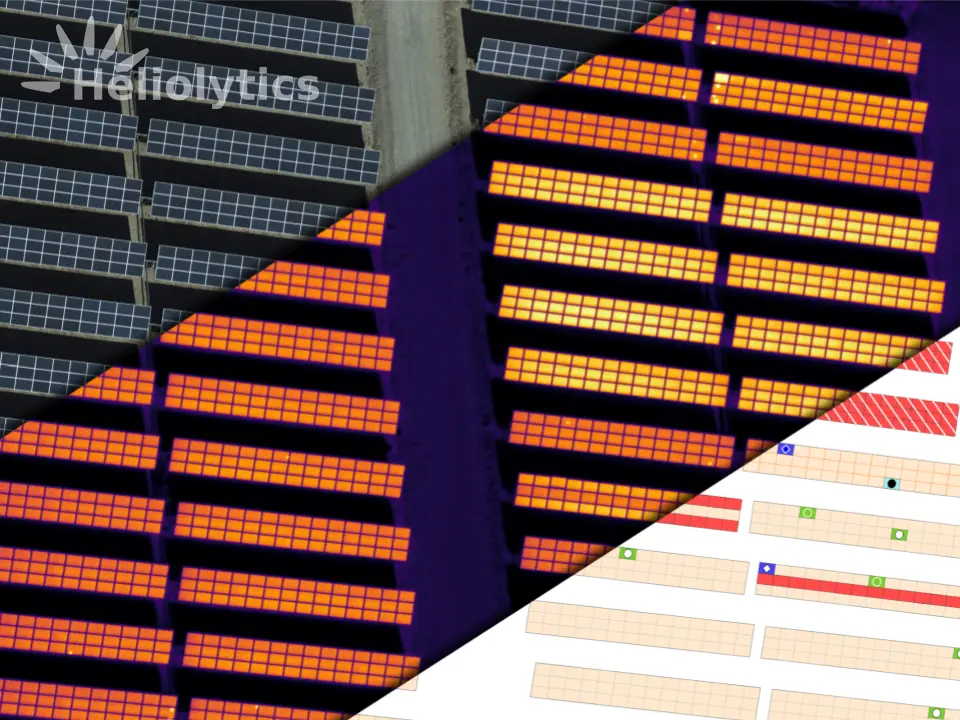 ACT
Actionable Insights
Our reporting is designed to drive actions and increase system yield through:
Intelligent fault prioritization, validated through millions of modules and customer feedback
Direct integrations into site Case Management Systems
Validated use in module warranty claims
Validated use in insurance claims
Integrated consulting services to provide guidance on complex issues Your Global Service Partner
Heliolytics provides full global coverage, ensuring consistent, high quality operations across portfolios. We operate our preferred aircraft services in an expanding set of countries, and provide drone services globally.

Aircraft and drone inspections

Drone inspections
In our first project together, Heliolytics provided actionable information of the array not easily obtained elsewhere, if at all, and enabled me to quickly and effectively assist my client to remediate several critical issues.
Hugh Kuhn
Principal, Solar Advisory Services
Get updates from Heliolytics
Stay on the leading edge of PV health insights with our thought leadership and service updates.